Lily Next-Gen Intelligent Remote Controller®
Go Farther: the Lily Next-Gen Remote Controller™ o­ffers a greater range and a greater degree of precision in flying the Lily Next-Gen drone. The Controller has a range of up to 2,625 feet (800 meters) for flight control and video vs. a range of up to 400 feet (120 meters) when using a mobile device alone.*

It securely holds a phone to display live video from the drone's camera while you control the drone using the flight controls. The Lily Next-Gen Remote Controller features a rechargeable smart battery and folds to pocket size, making it exceptionally easy to carry.

Info:
Tracking remote with Live-View

™

Video transmission range: 1.5 mi (2.4 km)
Easy One-Touch take off & landing buttons
Compact & expandable to fit large smart phone devices 
* Flight control and video signal range are in open air free of interference. The range for flight control and video may vary independently depending on environmental conditions, obstructions such as buildings and sources of electromagnetic interference such as cellular phone towers. Range may also vary depending on flight conditions and battery condition. Do not fly your drone beyond visual line of sight. Not all phones may be compatible in size.
---
Why Choose Lily Next-Gen®
The Only Drone on the Planet with
Loss / Damage Protection Plan
Lily is the only drone that provides 1-Year of Loss/Damage protection.
You're covered if you lose your drone! The Lily Flyaway + Loss Protection Plan™
provides a replacement even if yours is damaged or lost. No one else does this.
Restrictions apply: Terms
---
Everything You Need
When you buy a lily, you will have everything you need:
extra battery, premium case, propeller guards, and charging set.
*Remote control sold separately
Smart Charging Set
Keeps your Lily fully charged for peak performance.
High-Strength Propellers
Custom designed for your maximum aerodynamic efficiency.
360 Propeller Cages
Full protection from spinning propellers at all times.
Padded Carry Case
Take Lily with you anywhere, with foldable legs and blades.
---
The Friendliest Drone in the Sky
Lily Next-Gen is your personal companion. Everything is automatic and easy.
Pull it out from its custom sleeve, turn it on and go! It can follow you faithfully,
hover in air like it were rock solid, and come back home at the touch of a button.
---
Precision Engineered, Built Tough
No wider than a smartphone, take Lily Next-Gen anywhere. Its rugged body,
included spare battery, and optional propeller guards make it ready to fly when you are.
The advanced electronic gimbal keeps what you're shooting squarely in sight every time.
---
Gorgeous Videos and Photos
Silky smooth 1080p video, ultra-high resolution 4K, sharp 13 MP photos — Lily Next-Gen gives you beautiful shots every time. Skim over a lake, leap tall buildings in a single bound, barrel though a tunnel and film fun times with family and friends.
---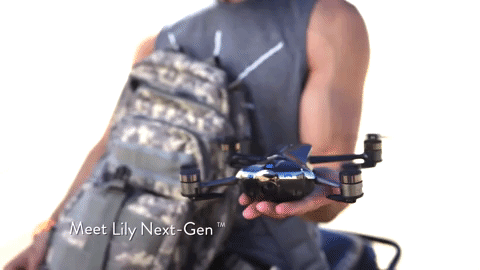 One-Touch Take Off and Smart Hover™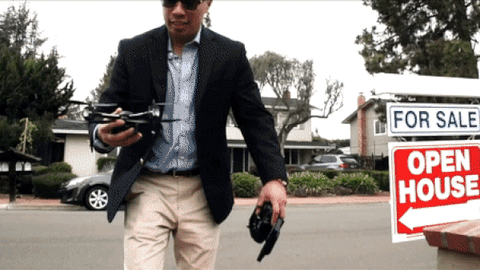 Unbelievably Simple to Fly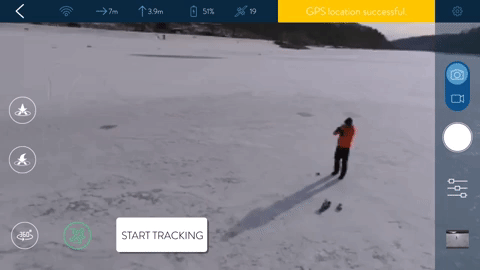 Advanced Features Like Follow-Me